Batemans Bay Sculpture Walk
Clyde River Foreshore from the Bridge to Batehaven
1. DUET – Dora A. Rognvaldsdottir
Located on Clyde Street, this is the winner of the 2017 Aquisative Award in the inaugural 'Sculpture for Clyde' Exhibition.  By Nowra sculptor Dora A. Rognvaldsdottir,  Duet is "two seedlings, larger than life, speak of aspirations and nurturing".  It was created from welded aluminium.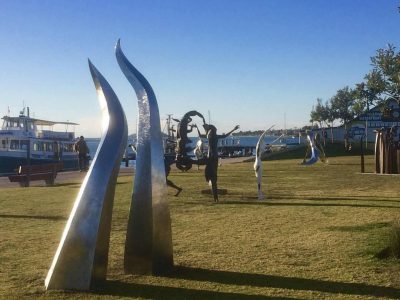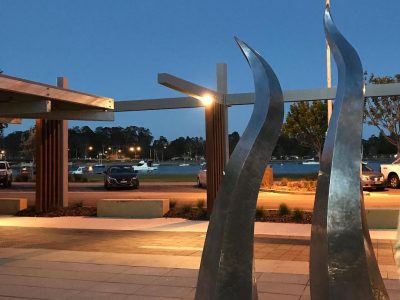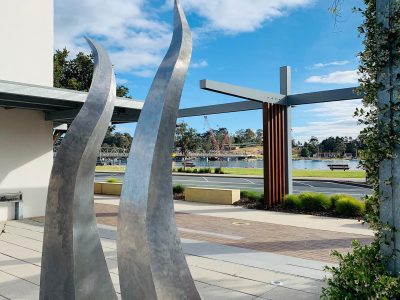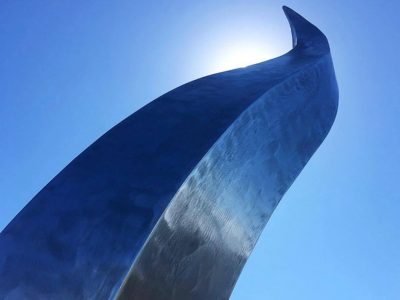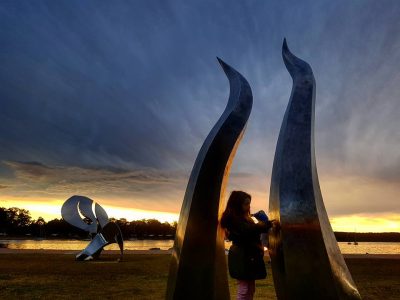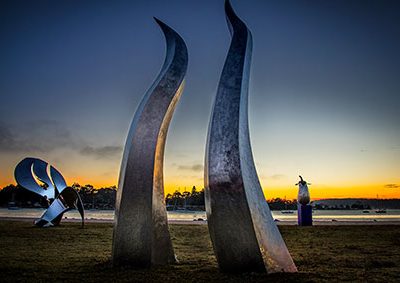 2. THE PELICAN - Terry Fuller
Terry Fuller studied sculpture at the Canberra School of Art and assisted with the conduct of classes in sculpture at the school. Since moving to the South Coast he is now sculpting full time and exhibiting in the ACT and NSW.  Terry works with steel, stone, wood and pewter, but bronze is his medium of choice. Terry chooses bronze because bronze is able to take any form that the sculptor wishes; its warmth and variety of patina and the way that light can be used to enhance the sculptures' surface are reasons for that choice.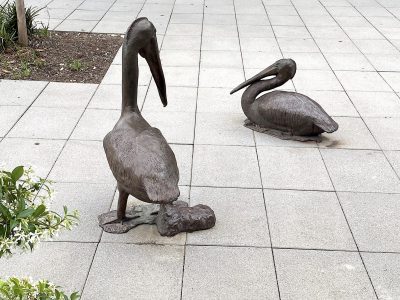 3. PORTAL - John Fitzmaurice
Fitzmaurice is based in North Avoca, NSW. He has a background in building and design. He is inspired by natural forms and everyday objects, transformed by abstraction and humour. Though it didn't win the formal acquisitive award, this piece was so popular among visitors to the 2018 event, it was purchased with funds raised through a community crowd funding campaign. It's located at the end of Mara Mia Walkway.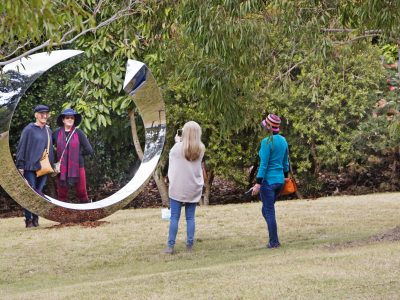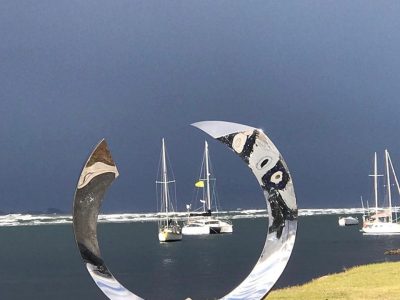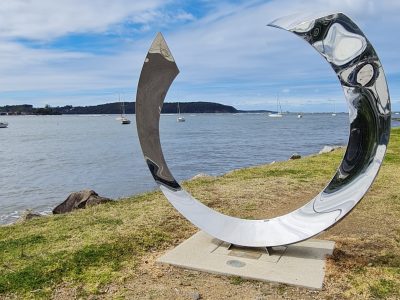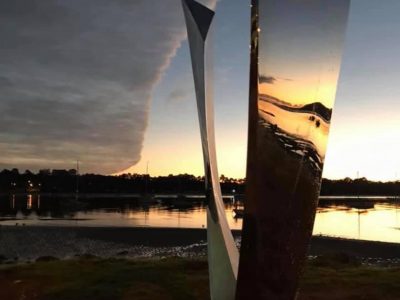 4. BUOYANSEA - Jesse Graham
Unveiled as part of the first 'Sculpture For Clyde' event in 2017, Buoyansea sits beside the Clyde River on Beach Road. Artist Jesse Graham, from Eden NSW, created the work from a buoy that washed up the creek after a major flood. Buoyansea now looks like an upside down octopus and stands over 6 foot high.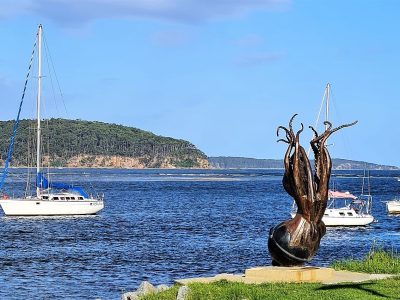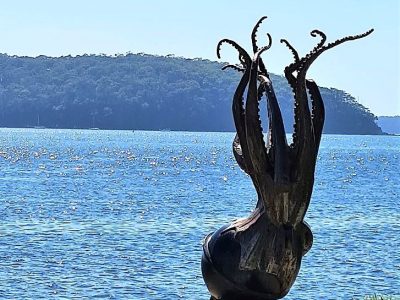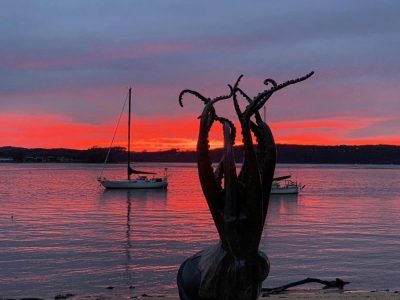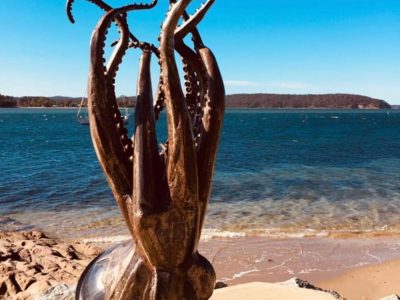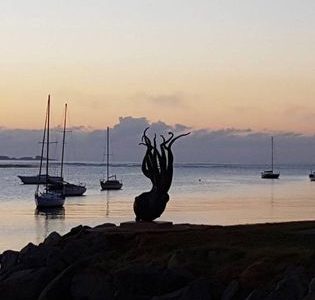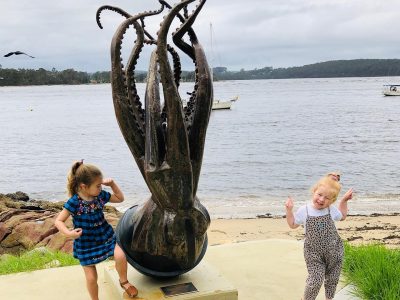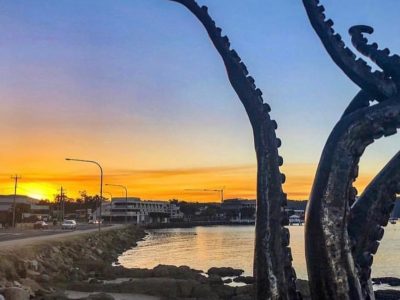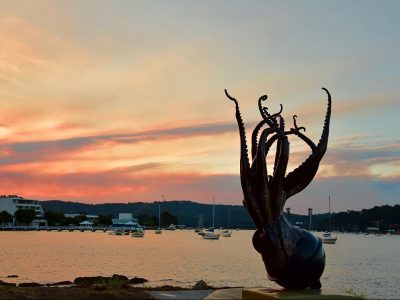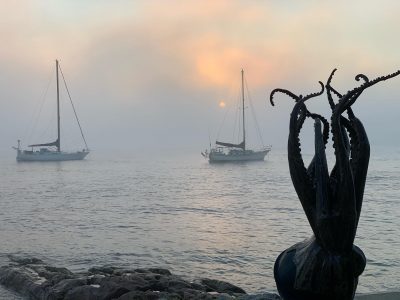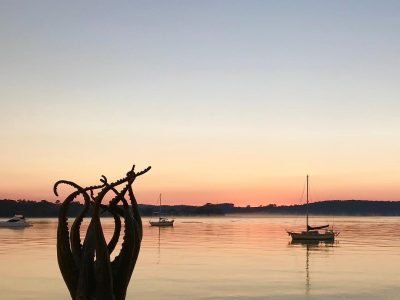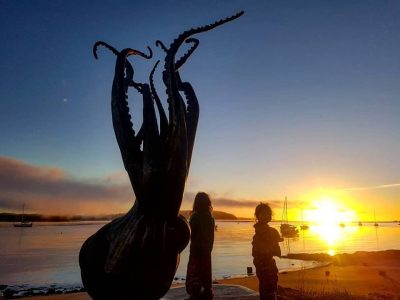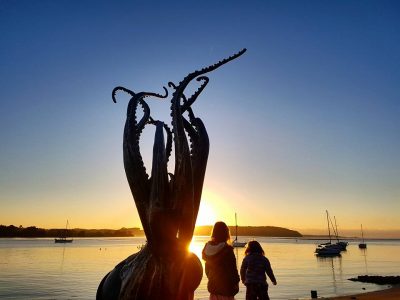 5. FAMILY - R.M. (Ron) Gomboc
Made from welded corten weathering steel and copper. "In the world of nature the importance of family whether human, animal, plant is the regrowth of new generation."  Gomboc (Middle Swan, WA), has exhibited more than 10 times at both Sculpture By The Sea Cottesloe and Bondi. Located at Beach Road / Spinnaker Reach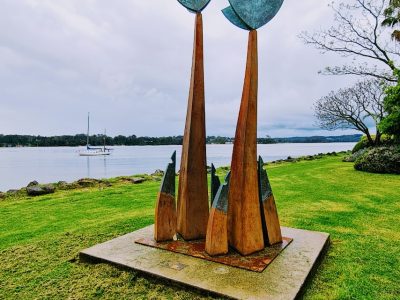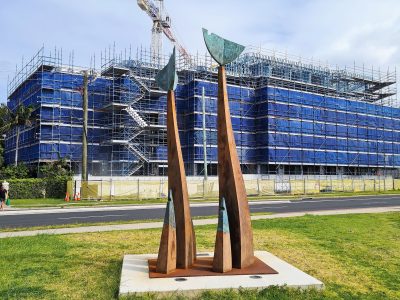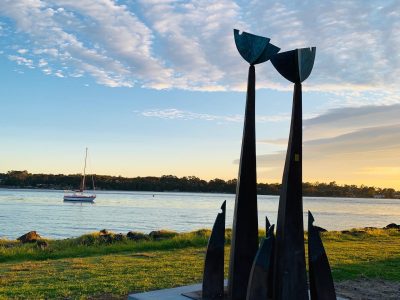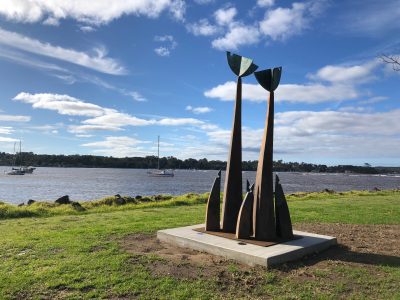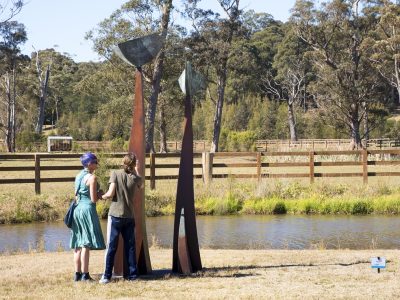 6. DANCE - Haruyuki Uchida
Aquisative Award 2018 Winner of $50,000.  Japanese sculptor Haruyuki Uchida works on large-scale, outdoor, public artworks made from composite metals like stainless steel and aluminium. Incorporating magnets in his work, he creates a form and expression that utilises the gravity that exists around us. 'Dance' is positioned on the point, to the west of Batemans Bay Marina at Spinnaker Reach. It is particularly worth a visit at night, with lights reflecting off the glistening red arms of the sculpture and the city behind.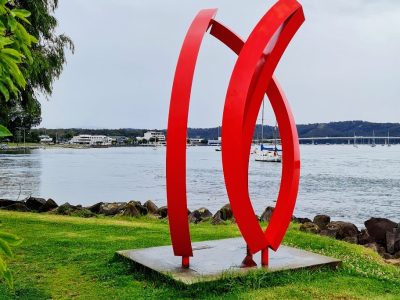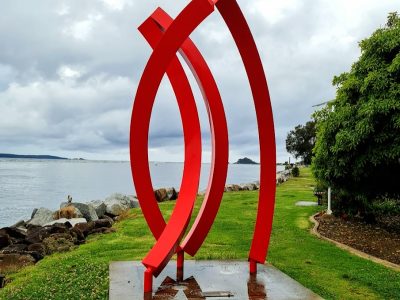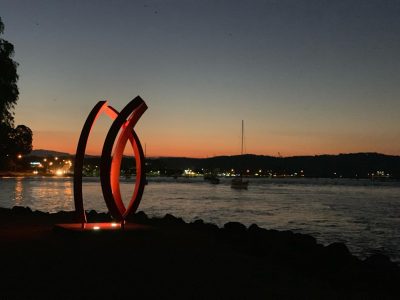 7. FRACTURE 2 - David Ball
Made from corten steel.  "My work is a distillation of forms found in our universe and scaled up or down."  Ball (Wildes Meadow, NSW) is an architectural and landscape sculptor, who makes his pieces by hand, a physicality not often evident in large-scale sculpture. This piece is located near the intersection of Beach Road with Bavarde Avenue.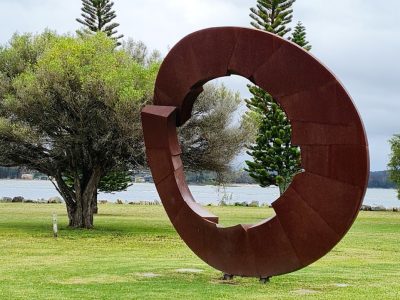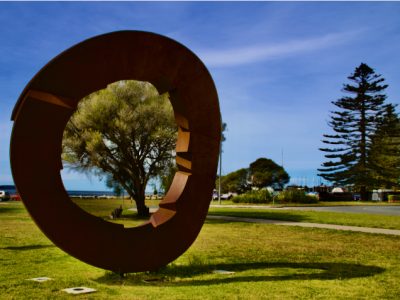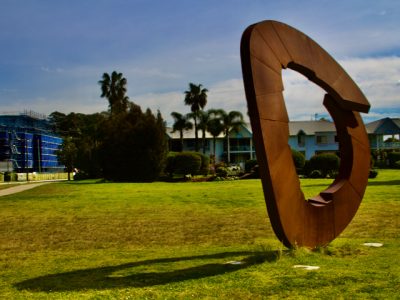 8. PELICANT - Jesse Graham
Pelicant takes pride of place on the breakwall at the Batemans Bay Marina. Though it didnt win the formal aquisative award, this piece was so popular among visitors to the 2018 event, that the committee raised extra funds through a community crowd funding campaign.  Jesse Graham is a full time artist living near Eden, NSW.  He lives and works on a small farm, surrounded by bell-bird laden bush. He works predominantly in the medium of sculpture, but also works in printmaking from time to time.